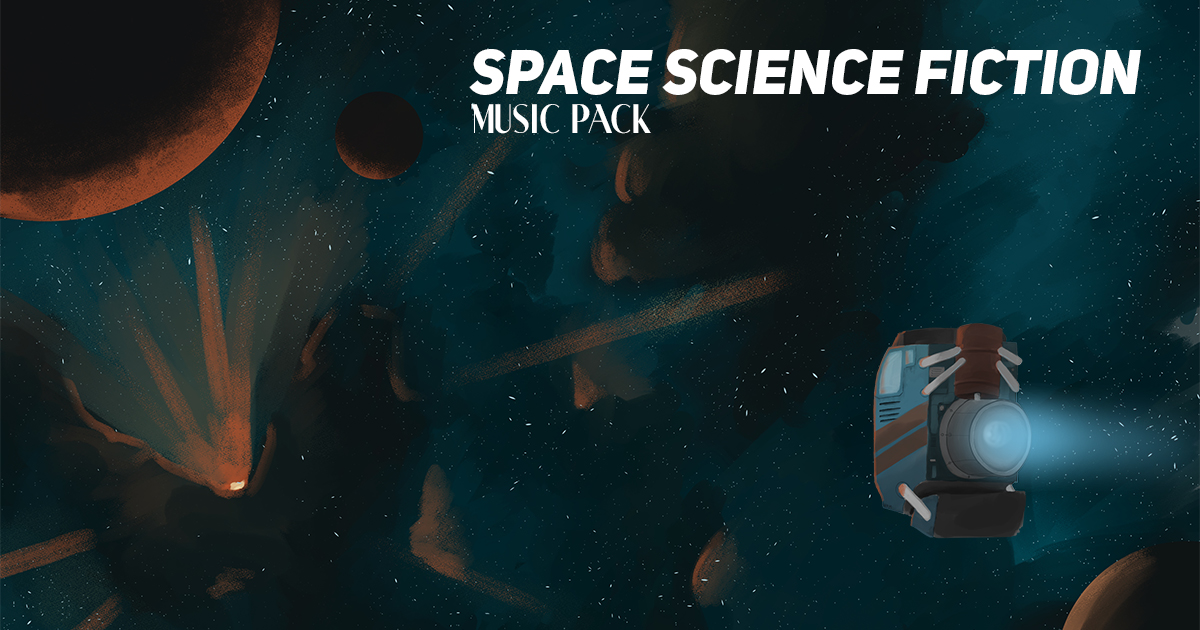 Space Science Fiction Music Pack
A downloadable asset pack
A collection of 15 orchestral and synth-heavy hybrid music pieces written for space and science fiction games. The music covers a wide range of emotions, from bright and positive to dark and grim moods; but all with the same instrumentation.
Each piece has two different arrangements; one labeled as "Ambient", with only string section, brass section and synths; and the second arrangement labeled as "Action" with and added percussion section to fit more action oriented moments (both arrangements are crossfaded on the sample track).
This pack includes 15 tracks, each with an "Ambient" and an "Action" arrangements, and "Loop" edit of both arrangements; which adds to 60 music files.

All tracks are .wav, 44.1kHz, 16 bits
Antimatter Fountain [Ambient] (1:03)
Antimatter Fountain [Ambient Loop] (0:59)
Antimatter Fountain [Action] (1:05)
Antimatter Fountain [Action Loop] (0:59)
Binary Star [Ambient] (1:15)
Binary Star [Ambient Loop] (1:09)
Binary Star [Action] (1:15)
Binary Star [Action Loop] (1:09)
Bright Star [Ambient] (0:59)
Bright Star [Ambient Loop] (0:54)
Bright Star [Action] (1:00)
Bright Star [Action Loop] (0:54)
Dangerous Space [Ambient] (1:00)
Dangerous Space [Ambient Loop] (0:55)
Dangerous Space [Action] (1:03)
Dangerous Space [Action Loop] (0:55)
Deepness of Space [Ambient] (1:18)
Deepness of Space [Ambient Loop] (1:11)
Deepness of Space [Action] (1:18)
Deepness of Space [Action Loop] (1:11)
Into the Unknown [Ambient] (1:05)
Into the Unknown [Ambient Loop] (1:01)
Into the Unknown [Action] (1:06)
Into the Unknown [Action Loop] (1:01)
Mystery Unveils [Ambient] (1:10)
Mystery Unveils [Ambient Loop] (1:03)
Mystery Unveils [Action] (1:11)
Mystery Unveils [Action Loop] (1:03)
Nebula [Ambient] (1:30)
Nebula [Ambient Loop] (1:06)
Nebula [Action] (1:32)
Nebula [Action Loop] (1:06)
Peaceful System [Ambient] (1:06)
Peaceful System [Ambient Loop] (0:59)
Peaceful System [Action] (1:08)
Peaceful System [Action Loop] (0:59)
Pulsar [Ambient] (1:04)
Pulsar [Ambient Loop] (0:57)
Pulsar [Action] (1:06)
Pulsar [Action Loop] (0:57)
Solar Wind [Ambient] (1:03)
Solar Wind [Ambient Loop] (0:57)
Solar Wind [Action] (1:03)
Solar Wind [Action Loop] (0:57)
Star Formation [Ambient] (1:09)
Star Formation [Ambient Loop] (1:05)
Star Formation [Action] (1:12)
Star Formation [Action Loop] (1:05)
Uncharted Sector [Ambient] (1:15)
Uncharted Sector [Ambient Loop] (1:09)
Uncharted Sector [Action] (1:18)
Uncharted Sector [Action Loop] (1:09)
Void [Ambient] (0:59)
Void [Ambient Loop] (0:55)
Void [Action] (1:02)
Void [Action Loop] (0:55)
White Dwarf [Ambient] (1:11)
White Dwarf [Ambient Loop] (1:06)
White Dwarf [Action] (1:11)
White Dwarf [Action Loop] (1:06)
Purchase
In order to download this asset pack you must purchase it at or above the minimum price of $20 USD. You will get access to the following files:
Space Science Fiction Music Pack.zip
642 MB